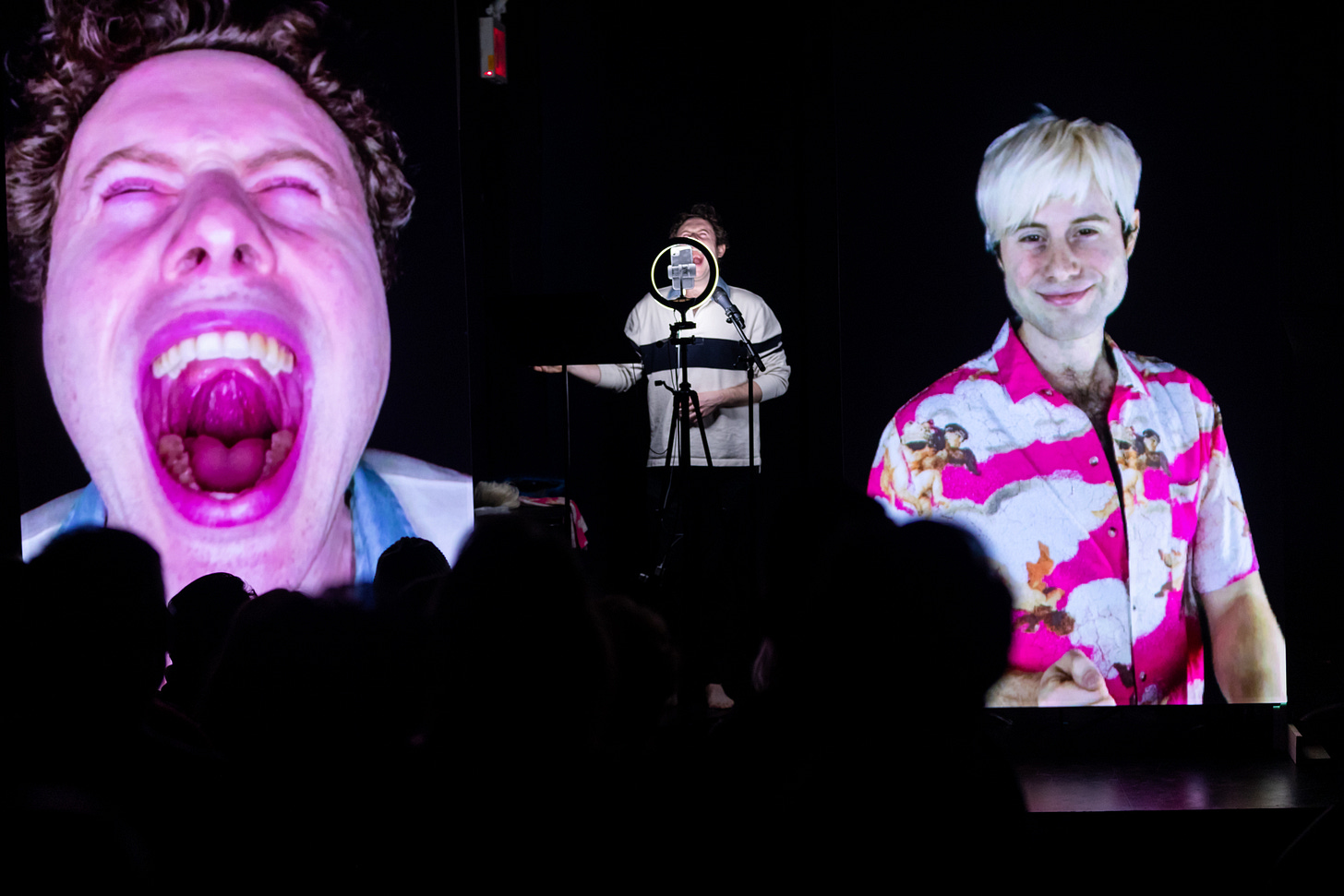 Circle Jerk (photo: Danny Bristoll)
Circle Jerk has sets. Also, costumes. 13 camera set-ups. Lighting, hair & wig, sound and prop designers. And the whole thing broadcasts from a hybrid theater/new media space in Gowanus.
So, it's not a Zoom play. "Multi-camera live-stream theatrical event" is what company Fake Friends is going with. Audiences can expect sitcom tropes, TikTok montages, digital fakery, "incredibly depraved" wigs, and a meme-stream.
What is a meme-stream? "It's a timesuck in tech rehearsal, is what it is," says star, writer and director Michael Breslin, not too helpfully.
Fake Friends is founded by Breslin and Patrick Foley, who also stars/writes/directs in Circle Jerk - running through Oct 23rd. Cat Rodriguez completes a three-person cast playing nine characters total. Rory Pelsue co-directs, and dramaturg Ariel Sibert rounds out Fake Friends' core company.
The plot: on Gayman Island in frigid January, the owner of a summer vacation home has just been canceled - but hatches a plot to exact his revenge.
Breslin and Foley presented earlier iterations of Circle Jerk at Ars Nova and Dixon Place, and had planned to bring the show to Rattlestick in July. Even then, it was proving a tough fit for a traditional staging. Projecting onto 8-foot tall iPhone screens was a particular challenge. Streaming live from MITU580, a hybrid new media space in Gowanus, the team feels they've found the show's ideal iteration rather than a pandemic compromise.
Backing up the experiment is Slave Play and "Daddy" playwright Jeremy O. Harris. As part of his two-year overall deal with HBO, Harris made an unusual ask: throw in a few extra thousand dollars so I can support weird theater. HBO said sure (or sure whatever), and Circle Jerk is among the first beneficiaries, along with an upcoming virtual reading of Will Arbery's Heroes of the Fourth Turning.
Significant as Harris' financial backing is, his online cheerleading for the show may be an even greater contribution. The rare crossover theater star, Harris has utilized his victory lap following Slave Play's record 12 Tony nominations to plug Circle Jerk across Twitter, Instagram and, of course, TikTok. Without Harris, it seems unlikely that Lena Waithe would boost the show to her near 1 million insta followers, or that Rachel Zegler would live tweet its first performance:
So - with Harris' backing, can Fake Friends push a screech of theatrical queer mayhem into the mainstream? Once the trailer's promise of giddy depravity lures a crowd, Breslin and Foley hope the show's deeper concerns - online fakery, social isolation, and white gay supremacy - will keep them from switching tabs.
"The plot revolves around a misinformation campaign," said Breslin. "This feels like an incredibly theatrical time, where you don't know if what you're looking at is fake."
In a reality where "some people don't question what they're seeing, theater and facade has taken on such credible relevance, and has caused so many tragedies," he goes on. "The fakery has real world consequences just as much as the reality."
In researching deepfakes, digital trickery and online smear campaigns, Breslin and Foley realized how closely their own love of wig-swapping, gender-blurred role-switching intersected with the gaudy absurdity of fake news memes.
"What is the difference between a fake news meme and the blonde wig that Cat will be wearing as a gay icon?" asked Breslin. "One brings pleasure and one breeds chaos, and I don't know which is which."
So yes, Circle Jerk is silly and fun - but the internet can be a short walk from absurd memes to profound hate. The TikTok feed can jump harshly from cat videos to dog whistles. So where does the fun end?
Foley hopes giddy depravity is itself a path to confronting the horror. "[Our work is about] pleasure, having a good time, stupid jokes that make you keep laughing even though you can't describe why," he says. "The intellectual rigor of examining your proximity to certain white supremacist power structures can be put up against slapstick humor, and they both can shine light on the other."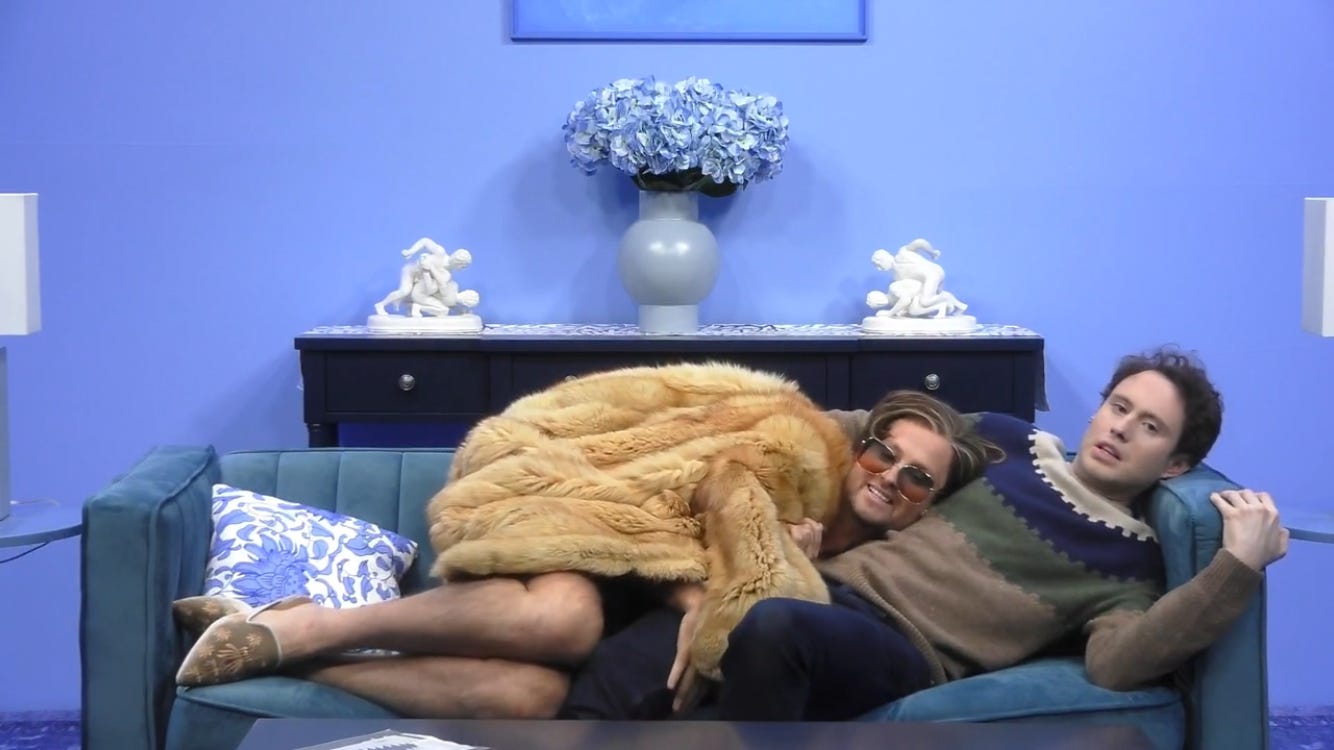 Michael Breslin & Patrick Foley in Circle Jerk (photo: courtesy of Fake Friends)
Plus a whole cohort of artists is getting paid, which is nice.
"We took Jeremy's money, and then we asked a bunch of other people for more money," laughs Foley. Staff and artists get at least the same fee they would have earned at Rattlestick, and pay is equal across the team.
"Everyone is getting paid an amount of money, but of course in the theater it's never enough," grants Breslin, who adds that ticket sales will also be shared.
As to what form of theater Circle Jerk is exactly, or if it's creating a new one altogether - even the artists can't tell you yet.
"It is unlike anything that has been done before, which is really cool," says Pelsue. "No one has seen anything like it. And it's live, so...anything is possible."
Circle Jerk continues through Oct 25th. Get tickets here.